High profile
ChinaAMC has acted as the most experienced Chinese asset manager with the longest track records managing and serving National Social Security Fund(NSSF) and corporate annuities. Its pioneer role in the country's retirement-oriented TDF/TRF sector also endowed it an edge in the hugely promising retail retirement saving product market.
With its long track record, strong asset allocation capability, dedicated team and sustained innovation, ChinaAMC as a top-tier pension manager is well-positioned to embrace the enormous opportunity unleased by China's third-pillar pension reform.
Track record
Back in 2002, ChinaAMC has been selected as one of the first qualified managers of NSSF.
In 2005, ChinaAMC was among the first fund management companies chosen to manage the Corporate Annuities. It won the first corporate mandate in the following year.
In 2016, ChinaAMC was among the first to be granted the license to manage China's Basic Pension Scheme.
In 2018, ChinaAMC was selected as one of the first qualified manager of Retirement Saving Public Fund. In September of that year, the company launched the nation's first Retirement Saving Public Fund: ChinaAMC Retirement Target Date 2040 Three-year Holding FOF.
International expertise
In 2017, ChinaAMC worked with Seattle-based Russell Investments, a global FOF and MOM specialist, to develop a FOF strategy tailored for Chinese investors. This paved the way for the company's retirement saving products, as they are delivered in the form of FOF.
In 2018, ChinaAMC established a partnership with Fidelity International, a global investment management industry leader and pension specialist.
ChinaAMC leverages on its leading local resources with Fidelity International's global pension research and investment experience to jointly promote the development of Pension Target Date Fund products in China.
Institutional business
To this day, ChinaAMC manages 164 portfolios for nearly 200 corporate annuity clients, with a total AUM of about 132.3 billion yuan. On top of 94.3 billion yuan Occupational Annuities business, ChinaAMC's annuity AUM exceeds 226 billion (USD 31 billion) and is ranked the fourth largest pension manager in China (Basic Pension Scheme and NSSF business added, AMAC data by the end of Sept, 2023 )
Among ChinaAMC's corporate annuity clients are State-owned enterprises under SASAC and local SASAC, major financial institutions, listed companies, joint ventures and foreign firms, in various sectors and localities. Its occupational annuities clients include government-affiliated agencies in almost all provinces.
ChinaAMC's corporate annuity portfolios has been delivering positive whole-year return straightly since the inception year 2007, a rarity among all accredited managers. Total asset-weighted accumulated return as of Sept 30, 2022 is 257%,against the industry average of 177%.
Retail business
Building on the success of the ChinaAMC Retirement Target Date 2040 in 2018, the first of its kind in China to provide investors with one-stop pension investment solutions, ChinaAMC went on to expand its TDF offering with the ChinaAMC 2035, 2040, 2045, 2050 and 2055 TDF FOF, becoming the largest of its kind in term of product number and scale.
On top of four Target Risk Fund, ChinaAMC has built a comprehensive product line serving Chinese retail investors' retirement saving demand.
In late 2022, China launched a pilot tax-deferred private pension scheme equivalent of US's IRA in 36 cities. Nine retail retirement funds from ChinaAMC have been enlisted in the first batch of products available for subscription, the most among its peers. Within one year, ChinaAMC leads peers in assets, number of products and number of holders.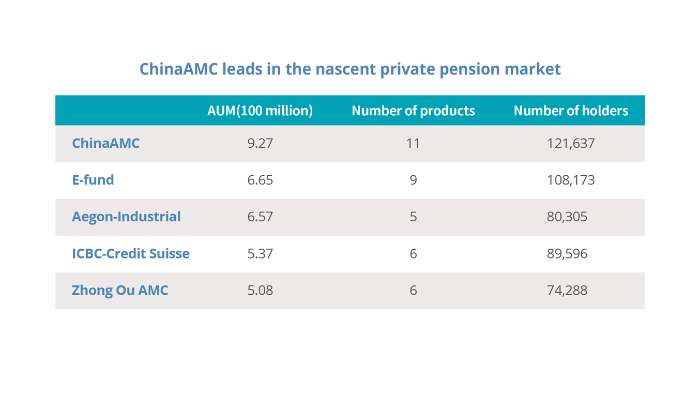 Source: quarterly and half-year report of funds, AUM and product number as of Q32023, holder number as of Q22023